An ideal tool for recording streaming audio, Mic input, or Line-in input from external devices connected to your PC. Video Pro Edition also allows you record video from screen or a video device like web cam or TV tuner. Convenient and powerful scheduler allows you to record when you can't be at your computer. The functionality of background recording makes the process of recording streaming audio and video handy and efficient!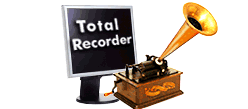 Download and evaluate for free:
Use Total Recorder with optional Add-ons:


Total Recorder Standard Edition costs just $17.95 (U.S.) Most other recording packages cost more and deliver less.


All new program updates are available to purchasers at no cost!


Registered users of Total Recorder Standard Edition may upgrade to the Professional Edition or VideoPro Edition for an upgrade fee of $18.00 or $36.00 (U.S.) respectively.
Please see this page for a complete overview of Total Recorder features.
Professional Dictation / Transcription Solutions

High Criteria offers a number of programs for digital recording and transcription, including:




Record Phone Calls
Dictation Buddy is the ideal software application for recording phone calls.
Follow this link for more details on recording phone calls to your PC with Dictation Buddy.